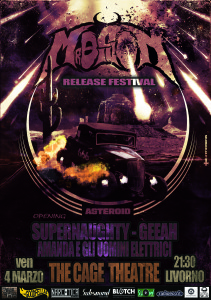 Blotch Records & Promotions, in collaborazione con Stones From the Hill, Radio Eco e Rock Circus
presenta non solo un Release Party  ma un Festival vero e proprio!!
I MR BISON presenteranno il nuovo album ASTEROID in uscita il 18 Marzo per la label romana SUBSOUND Records.
In apertura tre fantastiche band:
SUPERNAUGHTY  Hard Rock/Stoner da Livorno
GEEAH  Stoner dalla provincia di Pisa
AMANDA E GLI UOMINI ELETTRICI NewWaveRock da Cecina
I live inizieranno alle 21:30
Durante la serata ci saranno Interviste curate da Radio Eco
Verranno distribuiti ai partecipanti dei ticket con il link privato della nuova edizione del secret Show
STONES FROM THE HILL
Slow Records Shop con una fantastica rivendita di Vinili
e molto altro!!